What is the first thing that people will notice about your home? It would be the exterior of the house, of course! Before they have a chance to see the interior, you furnishings and your décor, they will see the outside and that means you can make a good starting impression when the exterior of your home looks its best. Getting the exterior of your home up to par really does not take that much work. All you need to do is consider the option to paint. Wallauer can help you find the perfect exterior paint for your home in Westchester County. The exterior paint offered here is exceptional in style, color and environmental awareness.
2010 Exterior 100% Acrylic Latex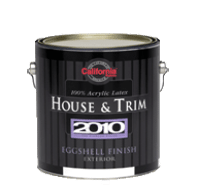 2010 Exterior 100% Acrylic Latex House Paint Westchester NY
Product Description
The #1 Rated 2010 Exterior 100% acrylic latex house paint, is the first of its kind with innovative acrylic technology that offers unsurpassed performance. It offers true one coat hiding – covers black in one coat. 2010 is formulated to withstand the toughest weather conditions and maintain an impeccable finish for many years.
Features and Benefits
Flawless durability, stain resistance, maximum sealing
Superlative adhesion, breathability, flexibility , exceptional color retention
Can be applied to any exterior surface including wood, stucco and aluminum or vinyl siding.
Environmentally-friendly
Available Finish
Velvet Flat, Eggshell, Satin
Target Customer
Consumer looking for a quality House paint that will last for years
Contractors looking for a superior latex paint with excellent adhesion
Concerned with color retention
Fres-Coat 100% Acrylic Latex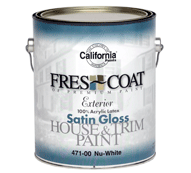 Fres-Coat 100% Acrylic Latex Exterior Paint Westchester, NY
Product Description
This Year's #1 Rated Exterior House Paint! Over the past 12 years, California Paints' Fres-Coat® Velvet Flat has continually finished at or near the top in an independent national study. Fres~Coat provides a trouble-free Exterior House paint. Easy to apply and quick-drying, Fres~Coat is ideal for galvanized metal.
Features and Benefits
Durable, long-lasting finish, resists mildew, water and alkali
Maximum sealing, adhesion, breathability, flexibility, and color retention
Can be used on clapboard, shingles, shakes, trim, plywood, aluminum and vinyl siding, stucco, masonry, brick, asbestos siding
Available Finish
Velvet Flat, Satin Gloss, Low Luster
Target Customer
Consumer looking for a quality House paint that will last for years
Contractors looking for a superior latex paint with excellent adhesion
Concerned with color retention