As Westchester County New York's top Hunter Douglas Gallery professionals, we carry a wide range of top window fashions. We have a full lineup of Hunter Douglas window products to choose from, including shadings, sheers, louvers, panels,blinds, and more. As a premier name in the window fashion industry, you can always count on Hunter Douglas products to provide easy maintenance, top quality durability, and top of the line energy efficiency.
Modern Precious Metals® blinds
Modern Precious Metals® blinds offer unsurpassed durability with style to match. Made from our exclusive Kid Proof spring-tempered alloy, slats are available in an extensive array of colors, textures and finishes. Plus you'll find unexpected extras like Dustshield finish to inhibit dust build-up, built-in valances, and concealed mountings. It's the perfect solution for modern décor, high-traffic households or first-time homeowners.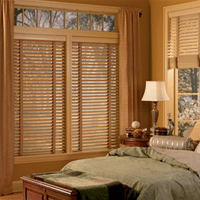 EverWood® alternative wood blinds
Made from our premium-grade, PVC-free slats, EverWood® alternative wood blinds offer a natural look. Choose from the largest selection of whites, realistic TruGrain® stains and upgrades. Thick slats require the fewest ladder tapes for an uncluttered look. Ideal for heat and moisture areas, they come with Performance PlusTM Protection against fade, yellow, warp and bow.