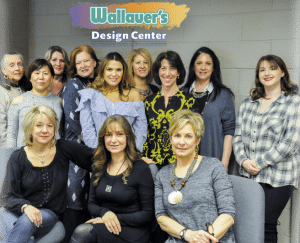 Wendy Hughes
OSSINING
Wendy Hughes
Wendy Hughes' focus lies squarely on her client's needs, from budget to style. With plenty of design experience, Wendy pinpoints a client's desires, and then finds well-suited products and styles, be it color, fabric or window treatment. With previous design experience in retail furniture sales, Wendy has developed her knowledge of design, staying rooted in a strong sense of space and style that started at furniture sales and design

Chris Marynowski
MOHEGAN LAKE
Chris Marynowski
Chris Marynowski, like all of our designers at Wallauer's, has a broad knowledge of colors, wallpapers and window treatments, in addition to a background in paint products, working seamlessly between the two departments. Chris' versatility allows her to help clients with wallpaper and fabrics, as well as paint products, before her clients even head over to that department. As such, Chris functions as a one-stop designer, making all of her client's concerns simple and understandable, whether they're interested in the perfect style of wallpaper or the perfect paint product, tinted to the perfect color.

Laura Nally
BEDFORD HILLS
Laura Nally
Laura Nally has plenty of experience working with colors, fabrics and window treatments, being not only a ten-year employee of Wallauer's Paint & Design Centers but also the design department manager in Bedford Hills. In her personal life, Laura has spent years developing her taste in drapery, sewing and working with fabrics since childhood. She pays great attention to every client, as Laura strives for a high level of customer satisfaction, and hopes that she can help clients reach possibilities that they had never dreamed of previously.

Jane Kern
WHITE PLAINS
Jane Kern
Jane Kern has studied interior design at the New York School of Interior Design. Following her education, Jane has spent twenty years working in commercial architecture in Manhattan. Her work experience enables Jane to confidently manage all her clients projects, having worked on commercial projects that have reached one million sq ft. Now, as a member of the Wallauer's Paint & Design Centers, Jane brings her enthusiasm and detail-oriented mind to our design staff.

Kathy Judd
PORT CHESTER
Kathy Judd
Kathy Judd has been in the design business for over 15 years, 7 of those running her own design company. She graduated from the New York School of Interior Design with an Associate Degree. Kathy is amazing at choosing color and window treatments, figuring out re upholstery. She says she loves to change the look of a room by refreshing the fabric. Her love of fabric extends especially to window treatments. She always loves to complete a room. She uses wallpaper, paint, and fabric as tools to bring life to a room. She always is happy to help customers make a beautiful finish.

Dorothy Vivas
WHITE PLAINS
Dorothy Vivas
Dorothy Vivas works as an interior designer and the customer care manager at Wallauer's Paint & Design Centers. Design has always played a major role in Dorothy's life, being one of her interests. She has experience working in architecture, assisting her brother, an architect, on various projects. She also has previous retail design experience at Expo in New Rochelle before coming to Wallauer's. Now, she uses her administrative mind and attention to detail to assist her clients.

Marie Squillante
SCARSDALE
Marie Squillante
Marie Squillante combines her knowledge of paint, colors and window treatments with a flair for design that makes every project magical. With over twenty years experience, Marie has a deep knowledge of window treatments, priding herself on being a troubleshooter for difficult windows configurations. Marie has also worked previously in costume design. The past experience designing costumes reflects the creativity that Marie brings to every project.

Barbara Pena
OSSINING
Barbara Pena
Barbara Pena has over thirty years experience selling window treatments to both residential and commercial clientele and is a Walluer's Paint & Design Center employee for over ten years. She brings enthusiasm and keen eye to Wallauer's design team, taking pride in seeing every client's wish through to the final appearance of window treatments or a room's color combination. She also has experience working on large commercial projects that required Barbara's expertise on wall coverings and window treatments.

Luciana Del Rio
PORT CHESTER
Luciana Del Rio
Luciana has worked in the interior design business for 20 years and has had 7 years of experience in Larchmont. She specializes in custom work, draperies, color, furniture painting, and decorative painting on walls. She has a background in fine arts and went to art school in Italy for interior design. She is great at figuring out what the customer wants and realizing their vision, interpreting their needs, breaking them down, and narrowing down big questions like "where do I start?"

Susan Chan
WHITE PLAINS
Susan Chan
Susan Chan has worked with Wallauer's for 18 years and in interior design for 35. Her specialties include window treatments, sewing techniques, and textiles. Her family has been in the textile industry for generations. Sue knows what's "in," what's fashionable, and stays up-to-date by regularly attending industry exhibitions. Sue is a person with experience and knowledge who can help in whatever it is you want to accomplish be it colors, patterns, and design according to how the house or room is set up. Sue is all about design with purpose.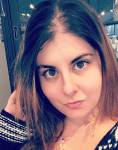 Jackie Fitzpatrick
WHITE PLAINS
Jackie Fitzpatrick
Jacqlyn Fitzpatrick is an Artist and Interior Design Consultant whose main objective is to make people's ideas they have for their space and make it a reality. She received a Bachelor of Arts Degree from The City College of New York, and uses her eye for color and style and design to create a final product that the customer will be happy with. Jackie's objective is to also provide great customer service, making sure the customer has a great experience at Wallauer's.